John Petro
Bringing Crime Under Control: Size of Police Force Not the Only Answer
The local newspapers have been heavily reporting the fact that crime is up this year compared with last year, when murders in the city hit a modern-day low. It is important to keep this three-month trend in perspective: murders may be up compared with 2009, but they are still lower than they were as recently as 2008. There were 114 murders by this date in 2008, five more than this year's total.
Many have pointed out that the recent up-tick in crime comes at a time when the NYPD is reducing its headcount because of budget cuts. The Post notes that the police force is down 6,000 from its peak of 41,000 a decade ago. Mayor Bloomberg called these reductions "worrisome".
"We have fewer police officers than we did before," Bloomberg said. "More cops always helps."
Except that there is no clear relationship between the number of officers on the street and levels of reported crime.
The number of officers on New York City streets has hovered around 35,000 since 2002 (headcount reductions occurred largely between 2000 and 2002). With 35,000 officers, the NYPD has about 43 police officers for every 10,000 residents. Two other large US cities have more officers per capita, Chicago and Philadelphia, and both have higher crime rates than New York City.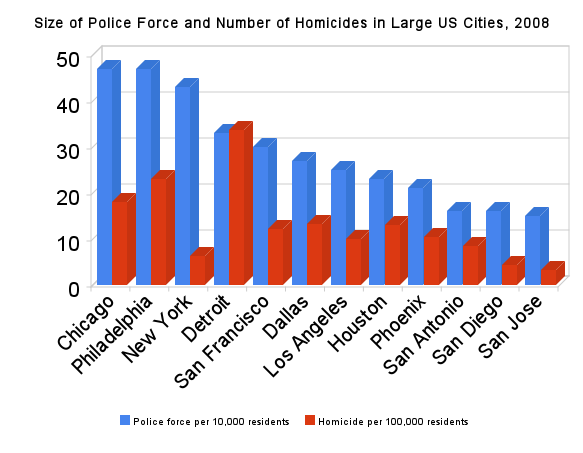 Source: FBI Crime in the United States
On the other hand, San Diego has a lower crime rate than New York City, despite the fact that there are about one-third fewer police officers per capita patrolling San Diego's streets than in New York.
There are other factors that may influence the size of New York City's police force. Because New York City is a known terrorist target, the NYPD must expend significant resources on keeping the city safe from terrorist attacks. But since there is such a wide disparity between large US cities, it is clear that the size of a city's police force is only one factor among many that determines that city's crime rate, a conclusion echoed by a 1998 report from the city's Independent Budget Office.
But the New York Post's editorial page recommends that Mayor Bloomberg reconsider other priorities before reducing the police force any further. "If that means more file clerks and Education Department paraprofessionals must go, tough."
The NYPD has undoubtedly done tremendous work in bringing down New York's crime rate to record-low levels. But before we go about gutting other vital New York City services, it is worth considering the lack of a relationship between the size of a city's police force and a city's crime rate. We must also consider that crime is still near historically low levels. Crime is down 30 percent from 2001 levels, when the NYPD headcount was higher by several thousand officers.
Let's hope that the first three months of this year represent just a temporary increase in crime. The number of police officers on the street will be only one factor among many that determines whether the number of murders in New York City continues to climb or if they descend back to record-low levels.
John Petro: Author Bio | Other Posts
Posted at 3:39 PM, Apr 06, 2010 in Urban Affairs
Permalink | Email to Friend